SEE 'Secret Life of Dads' or 'The Mysterious Gentleman' FOR DETAILS OF MY MOST RECENT ARTS COUNCIL FUNDED PLAYS

OTHER PROJECTS
'Radical Ideas', my play about the Golden Age of Arabic Science explored through a contemporary family struggling with issues of being British Muslims is currently in early development with Theatre 503. And 'Cake', my play about the downside of longevity is  in development at Oval House Theatre.

I'm also really excited that my short play 'The Road Not Taken' was chosen as part of the Rapid Write Response to Jake Brunger's 'Four Play' and was performed at Theatre 503 on 6th & 7th March, directed by Kasia Rozycki, who then went on to direct the last production of 'The Mysterious Gentleman'
I was commissioned by Paines Plough to write for their 'Come to Where I'm From' project and you can download their app and listen to my play 'The Gloucester Citizen' by clicking HERE
My monologue 'The Universe Speaks' was chosen as one of ten pieces performed at the St.James Theatre in London as part of 'Make The Cut' on 27th October 2015, and another monologue of mine 'On the Dark Side' was selected for performance in the February 2016 event.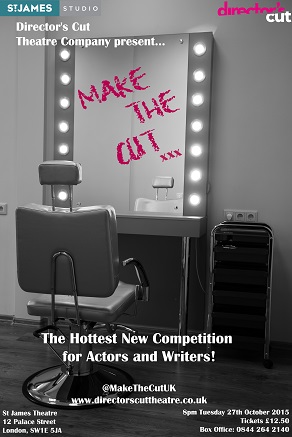 Edinburgh Festival 2015: My play 2 Up, 2 Down was performed by Midsummers Theatre Company there after touring to festivals in Birmingham, Bath, Coventry, and Gloucester during July. All performances were sold out! And we were awarded a coveted Fringe sell-out show laurel.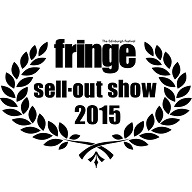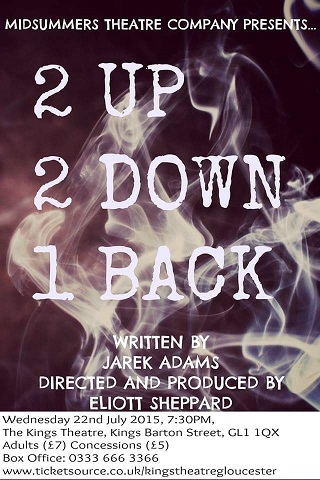 2015 WRITER'S GUILD OF GREAT BRITAIN THEATRE ENCOURAGEMENT AWARD WINNER!!! The Scriptorium is a writer development project based in Gloucester where I work with emerging writers to develop and produce their plays with local theatre companies. See more about this under the Scriptorium tab.
PROFILE:
I am a writer and creative practitioner with an excellent track record of researching and developing innovative theatre projects for a wide variety of partners.
I have a strong track record of writing and producing my own plays with funding from Arts Council England, and am developing links with commissioning theatres.
I also work as a tutor, running workshops and courses on many aspects of writing, and mentoring emerging writers and theatre companies through my Scriptorium project for which I won the Writer's Guild Award for Theatre Encouragement in 2015.
GOALS:
My writing skills are constantly developing, and I continually seek to stretch these wherever possible through attending workshops and writing groups.  My primary goal is to broaden my contacts and to develop links with community groups and theatre companies where I can explore possibilities for new writing projects, and where I can reach new audiences.  I am also developing my teaching work where I am able to share my skills with others.
FURTHER INFO ABOUT PAST PROJECTS: (See Home Page for up to date info)
2014: 'Thorny Issue' a short monologue was selected for performance at the Urmson Burnett Gallery as part of the Salisbury Fringe Festival in March. The piece was written in response to an abstract photogram image. 'The Delightful Child' was performed at the Bacon Theatre, Cheltenham as part of Feast of Stories. I was also selected through Ideas Tap to be part of the Papatango Playwriting Masterclass group.
2013: 'The Reluctant Vegetarian' was performed as part of 'A Feast of Stories' at the Bacon Theatre in Cheltenham, and 'Dinosaurs', a puppet play for children sold out three performances at the Cheltenham Festival of Science in June.
2012:   I worked with pupils at Oakridge school in Gloucestershire on improvisations around the theme of summer holiday adventures, then wrote and directed a pageant/play for a performance on their village green.  However, when the rains came down and flooded the green I adapted the performance to fit in the village church.  In November 2012 'The Dripping Man' a short play written as part of Theatre West's A-Z project was Directed by Chris Loveless and peformed by Theatre West at the Alma Tavern in Bristol.  I was the Video and Drama Tutor for Artshape, working with adults with learning difficulties, also the chief judge for Gloucestershire Theatre Association's one-act playwriting festival, and a member of the Playhouse New Drama Company where my play 'Slow Tango in Slough' was given a rehearsed reading.
2011: I was a member of the Everyman Theatre Writer's Lab, writing plays for the Young Actors Companies who performed 'Blood Camp' and '2 Up, 2 Down' in the Studio Theatre. I also worked as a practitioner for the Everyman delivering educational outreach, and ran writing workshops for adults at the Guildhall in Gloucester covering e-publishing, novels and playwriting.
1995 to 2005:   Ran Monthly Play & Make sessions for 5-11 year olds at Borough Theatre in Abergavenny, writing plays and creating adventure story sessions.
1995 to 2001:   Writer and creative director of Newport and Monmouthshire County Council's heritage interpretation company. Creating public performances at Caldicot Castle, Tredegar House, and various museum sites, as well as writing and producing a large scale community street performance in Newport city centre recreating the historic Chartist riots.
1993 to 1998:   Ran Howardian Education Centre's Youth Drama Groups (Juniors age 5-11 & Seniors age 12-16) and Video workshops for 16-18 year olds, which involved writing performance scripts from devising sessions.
1991 to 1998:   Worked for the Disability Advice Resource Team in Cardiff running drama and video workshops for adults with learning difficulties, as well as writing scripts for public performance and scripts that were filmed.  I was also commissioned by the County Council to write a handbook on my methods of creating accessible scripts for people with reading & language difficulties.
1995 to 1996:   Guest Director running improvisation workshops for Sherman Youth Theatre and Coleg Glan Hafren students in Cardiff (age 16-18).
1990 to 1993:   Director of Summer Theatre at Atlantic College working with 16-18 year olds, and running St.Donat's Youth Theatre for 11-16 year olds.
1991 to 1992:   Writer and director on the Pentwyn Community Play, working with a community group to create plays that toured to local primary schools.
1990 to present – Science Presenter & Creative Practitioner with Timezones Curriculum Support where I have written interactive plays about Science & History for KS1, 2 & 3, and other works including adaptations of  Shakespeare's plays for puppet performances.
1988 to 1989:   Full-time Drama worker at Avon Community Theatre Agency in Bristol where I was responsible for development of the company's work with 16 to 25 year olds in disadvantaged areas of the city.
1985 to 1988:   Rose Bruford College, London on Community Theatre Arts Course, where I worked on devising pieces of educational and community theatre.  In my final year I was given an altered course so that I could focus on writing.  'Expectations' a play about unplanned pregnancy was written in my final year, and toured with several TIE companies for a number of years after my graduation.
1981 to 1985:   ASM/Performer with Atlantic Union and Moving Being Theatre Companies.  Writer and Director of the Young Women's Theatre Company at Llanover Hall Youth Arts Centre, while studying at Welsh College of Music & Drama.