An Amazon bestseller!!!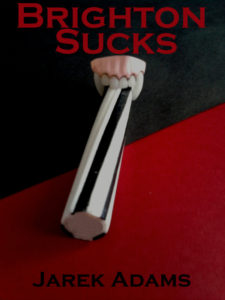 AMAZON REVIEWS:
This book was great fun – made me laugh at times and yet some parts had a poignancy that had me on the edge of tears.
I really enjoyed this book which was an interesting take on the vampire story. Light-hearted and witty in places and dark and scary in others, it made for a real page turner. The storyline was strong and the book could be enjoyed by anyone, not just vampire addicts. Looking forward to the sequel.
Great fun if you know Brighton. The author describes a horror fantasy romp around the town with loving detail.
THE STORY: Freya is attacked by vampires. When no one believes her, she is committed to a mental hospital. She escapes and seeks sanctuary with her friend, a gay vicar, in the quirky English seaside town of Brighton, but she soon finds herself surrounded by undead people who want to kill her. Two gorgeous men offer her protection, but she isn't sure if she can trust either of them, and their animosity towards each other creates a complicated lust triangle. As her life spirals out of control, Freya learns secrets about her past, and is thrust into a desperate battle for survival. Brighton Sucks is an Urban Fantasy with plenty of action, some tongue-in-cheek ideas on vampirism, and a healthy smattering of steamy sex.