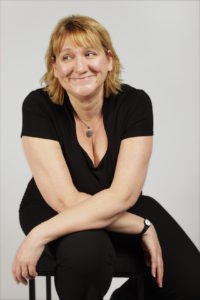 I grew up in Cardiff, South Wales.  Family life was vaguely normal with sporty parents and a reclusive older brother.  We weren't exactly rich, but as my father worked for himself we were able to go off to Spain every spring for long holidays in a caravan on the side of a beach where I made friends with all sorts of characters from all over the world, many of whom have found their way into my writing (see Dali's Garden in 'Novels & Stories' tab).
Playwriting was the first area I shone in, and I wrote and produced my first play when I was in Junior school.  It was called the Red Ruby Angels and was based around a scarlet evening dress that was a cast-off from my glamorous auntie.  My creativity dwindled in secondary school until I discovered Llanover Hall Youth Theatre.  That led to performance work with several professional theatre companies and eventually to a stint at Drama College.
At Rose Bruford's College I realised I wasn't cut out to be an actress, but that playwriting was an option I could pursue.  I also met a man I could pursue, and have now been married to Andrew Thorn for over ten years, after a twelve year engagement.  We set up our business Timezones Curriculum Support together, and together we have produced a long list of educational plays that have toured nationally and internationally.
Over the past few years I have broadened out my play writing and received funding from the Arts Council for a number of projects including 'The Mysterious Gentleman', 'The Secret Life of Dads' and the 'Scriptorium' playwrights development project.
My first two novels both hit the Amazon (paid for) best seller charts on their release, and I'm currently working on a sequel to Brighton Sucks, which will be the second of my Brighton trilogy.
I now spend my time writing and producing both my own plays as well as developing works with emerging playwrights.